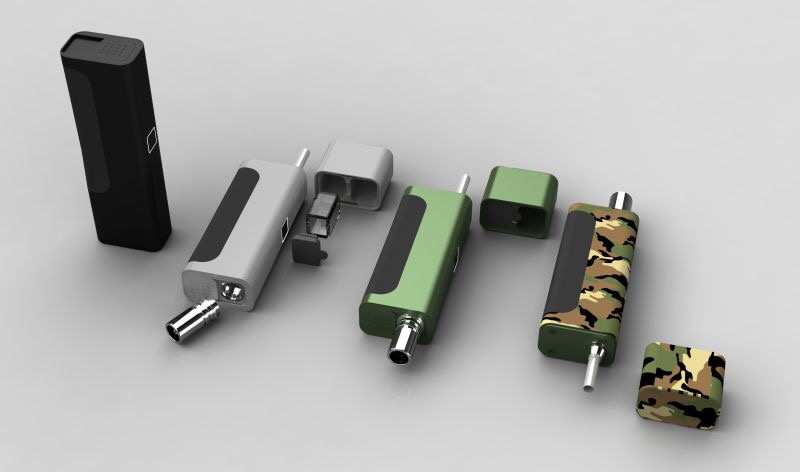 There were various improvements done on the final prototype of the HUNI BADGER to make it the best portable dabber.
The ceramic heating element is similar to the first prototype, but it is now much easier to remove and replace. We added a treaded connection so instead of disassembling the front plate to replace the heating element, you can simply screw it on and off.

We decide to stick to the use of Lithium-Ion 18650 battery cells, they are easy to obtain, reliable, and has the capacity to power the Huni Badger for multiple sessions before needing a recharge. We designed the battery to be removable so you can use a fresh battery while recharging the depleted ones.
We want to include attachments that will allow water filtration to be connected to the Huni Badger. The mouthpiece was redesigned with silicon grommets so it can be attached to all the commercially available 510 water bubblers. Also included is a 14mm stainless steel male adapter that may be used to connect the HUNI BADGER to various 14mm glass pieces.
A few more improvements were made. The mouthpiece threaded connection on the Huni Badger now includes a sliding dustcover that will keep the airway free of debris when the device is not being used. The cap is now secured by strong magnets instead of the previous silicone gasket design for easy removal. We also designed a glass container with silicon cover for your extracts called the HuniPot which fits perfectly into the storage compartment of the magnetic cap.
With all of the improvements and adjustments completed, we are now ready to provide you with the best vaporizer. The HUNI BADGER is definitely going to be the best portable dabber pen!